> Diapo
Diapo is a simple slide show tool for Mac OS X.
> Groumpf
Groumpf is a simple movie player with full screen capabilities for Mac OS X.
> jGzip
A java tool to encode file to '.gz' format.
jGzip v0.1 [ Mac OS X Pb] 29-03-01 --> Get It ! 40 ko .sit

> jPict
A simple java browser to view your favorite pictures.
jPict beta [ Mac OS X ] 6-04-01 --> Get It ! 60 ko .sit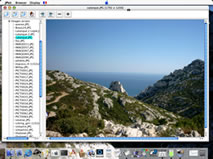 ---